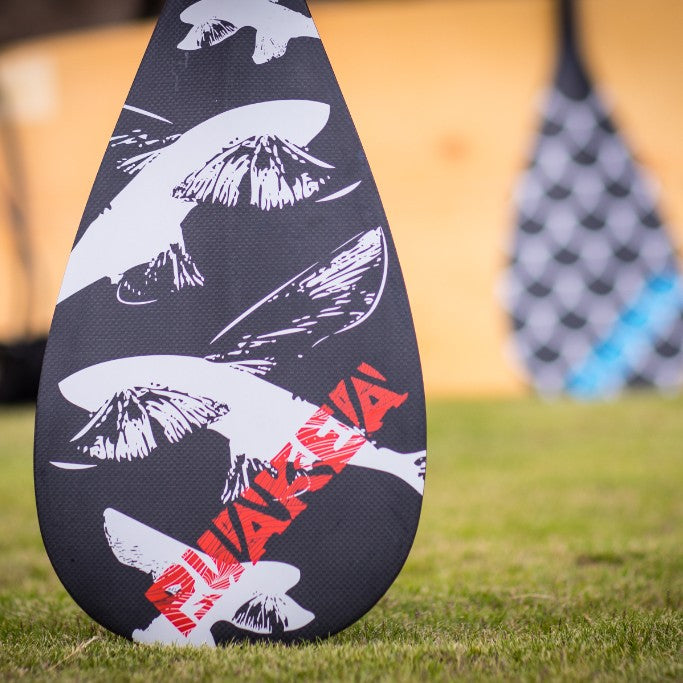 MAIKA'I CARBON PADDLE
Maika'i Hybrid Paddle from Puakea Designs.
Type: Double Bend Carbon
Length: 46" to 53" (Custom Sizes Available)
Width: 9.437″ Blade
115 sq. inches
Red accent
Maika'i means "smooth feel" in Hawaiian. With the Puakea Malolo design under a glossy finish, this paddle is big. Ideal for team boats, the Maika'i really shines when the canoe is surging on a wave, or at full race pace. As the canoe goes faster, it becomes increasingly difficult to grab water and accelerate, making this paddle extremely useful at high speed. Like its little sibling, Polu, Maika'i has a rounded leading edge that creates less impact on the paddler. But with significantly more surface area, has incredible hold and feel. A slight scoop keeps water from cavitating around the blade without sacrificing an efficient exit.  At the catch position, the double-bend oval shaft promotes a comfortable, loose grip and relaxed wrist.
Standard sizes: 46-53, Custom sizes: any size lower than 46, any size higher than 53, and half sizes. Select the correct size in drop down.
Limited inventory in stock. Please allow up to 2-3 weeks production time before your order ships